2022 Maruti Nexa Baleno - Official Accessory List With Prices | V3Cars
Maruti Nexa offer the new Baleno in four variants – Sigma, Delta, Zeta, and Alpha. While the top-spec Alpha comes loaded with features, the lower variants in the Baleno lineup miss out on some essential goodies. We tell you our recommended accessories for the new Baleno that you can retrofit from the dealership.
Here are the prices and the complete list of all the official accessories Maruti Nexa offer with the new Baleno:
Also Read: Maruti Nexa Baleno Petrol Variants Explained - Which One To Buy?
Priority - High
If you are buying the new Baleno, we highly recommend you to install the following accessories regardless of the variant you buy:
Mats (Cabin and boot)
Mudflaps
Body Cover
Front parking sensors
Fog lamps (only available for Sigma and Delta variants)
These accessories will cater to the needs of most of the buyers' day-to-day car usage.
Priority - Mid
If you are buying the new Baleno, you can consider the following accessories:
Alloy wheels
Door visor
Body side moulding
Underbody spoiler and skid plate
Door sill guard
Window sunshade
Seat covers
PM 2.5 filter
These accessories are not must-haves, but will enhance the ownership experience of the car.
Warning: You can't install any aftermarket seat covers if you're buying the Alpha or Zeta variants. These models come with side airbags, which are installed in the front seats. So, a seat cover will cause the airbag to deploy in an unexpected manner and instead of preventing, it could even cause an injury.
Priority - Low
If you are buying the new Baleno, we will not recommend you to install the following accessories on your car:
Chrome and piano black garnish
ORVM covers
Interior styling kit
You should only consider these accessories if you wish to provide your car with a slightly distinct look, inside and out.
Also Read: 2022 Maruti Baleno Receives 25,000 Bookings
If you are planning to book the new Baleno, you can watch our variants explained video to know which variant of the Baleno suits your requirements.
New Maruti Nexa Baleno 2022 Official Accessory Price List - Page 1: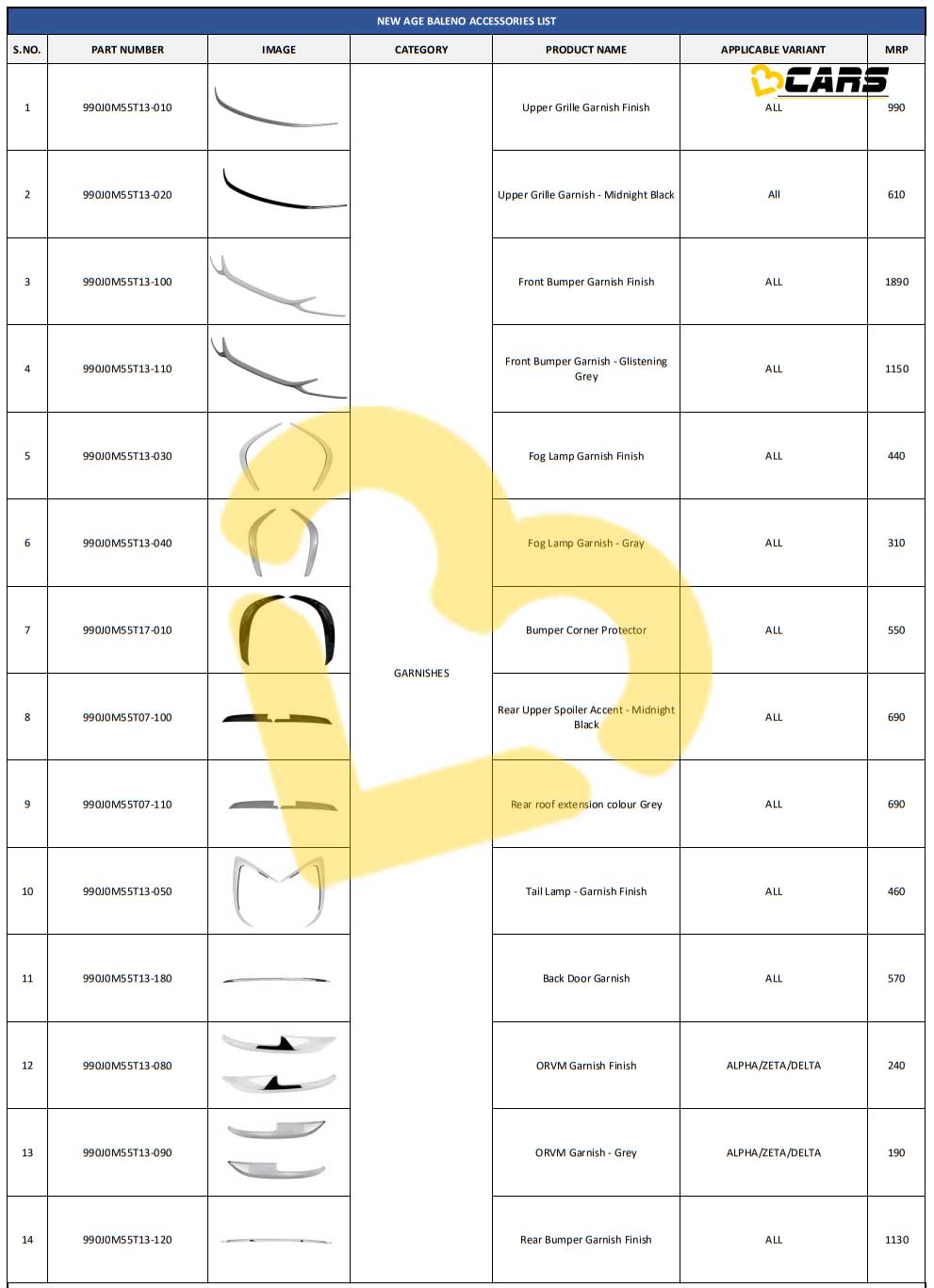 New Maruti Nexa Baleno 2022 Official Accessory Price List - Page 2: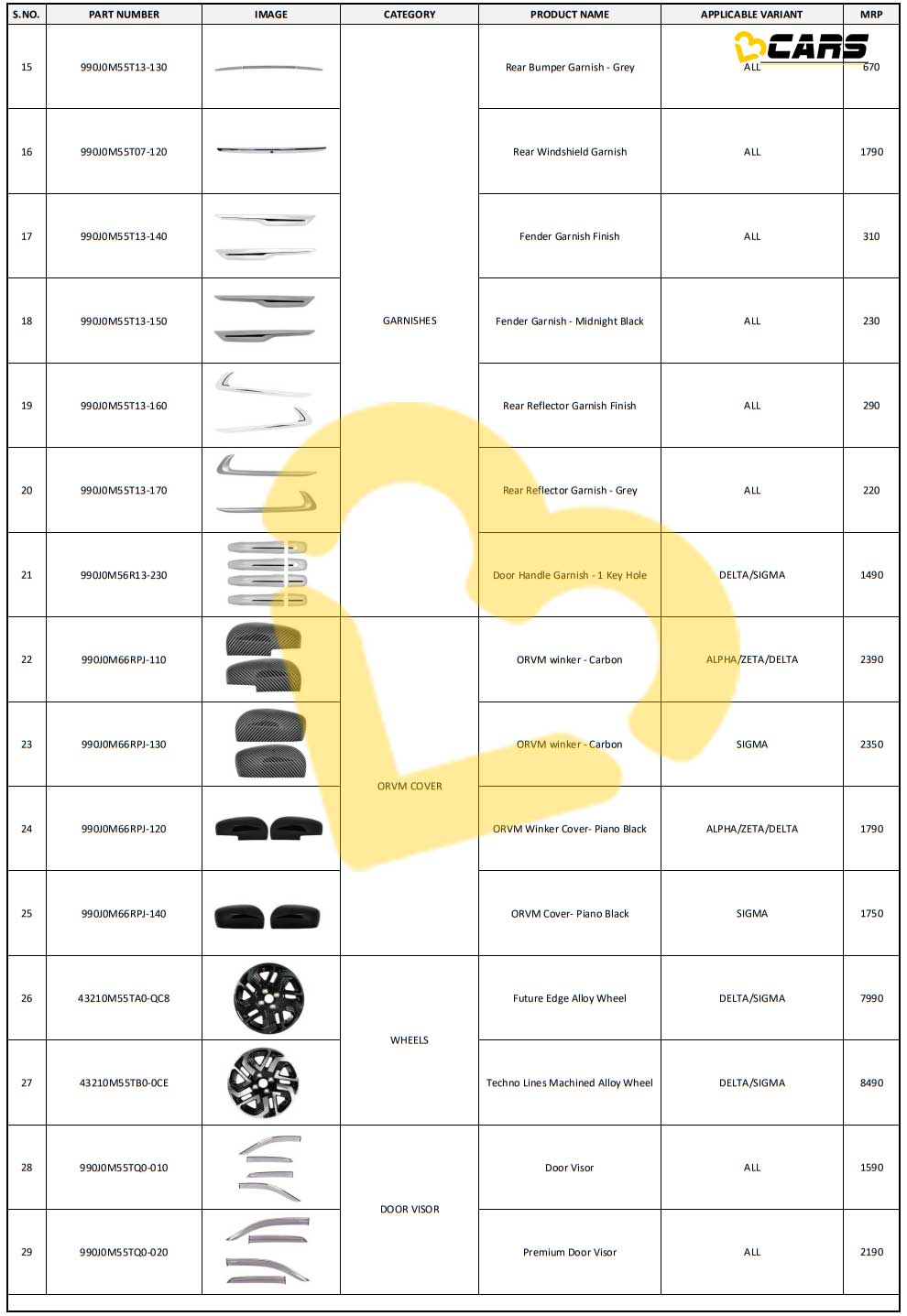 New Maruti Nexa Baleno 2022 Official Accessory Price List - Page 3: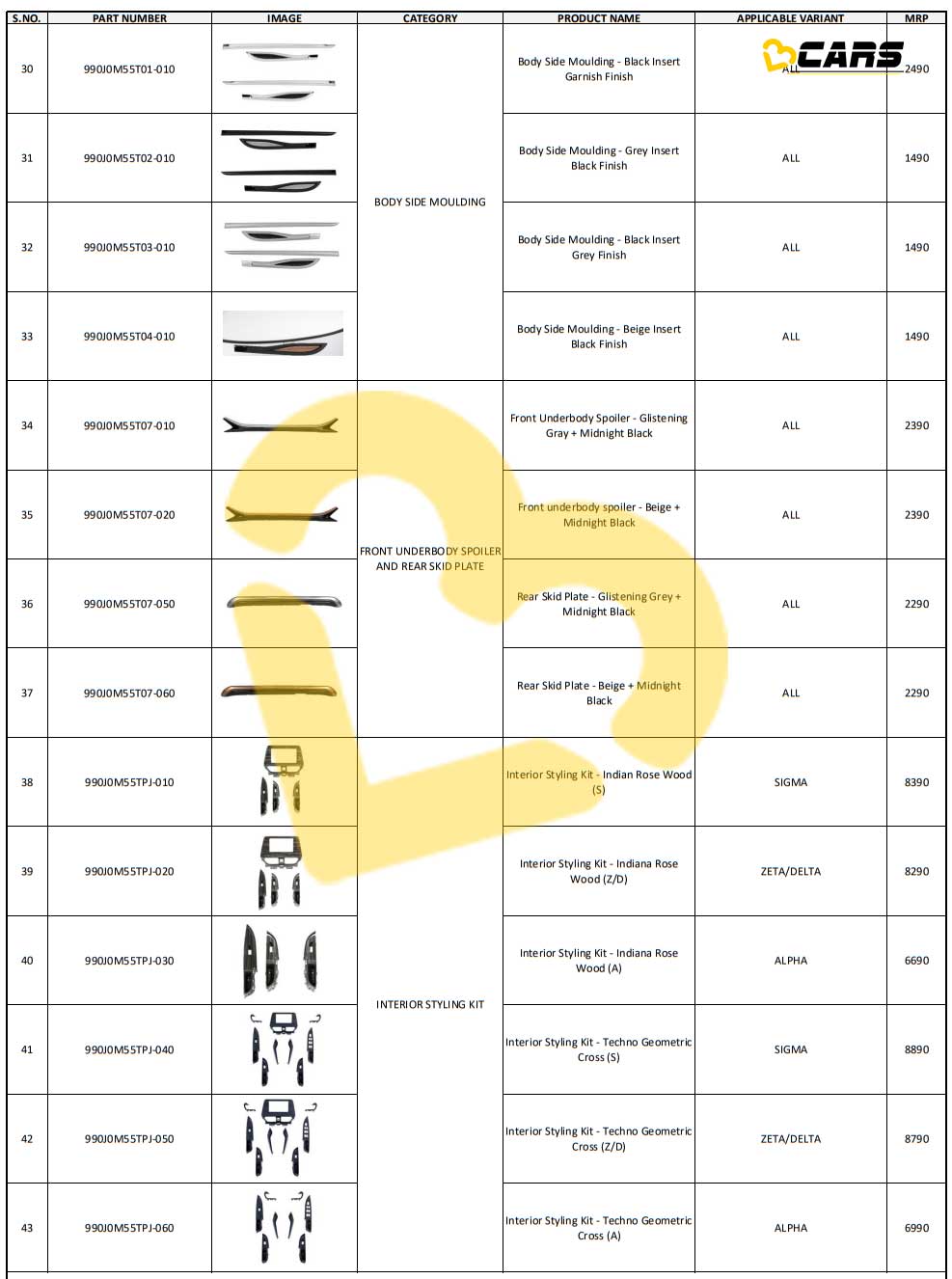 New Maruti Nexa Baleno 2022 Official Accessory Price List - Page 4: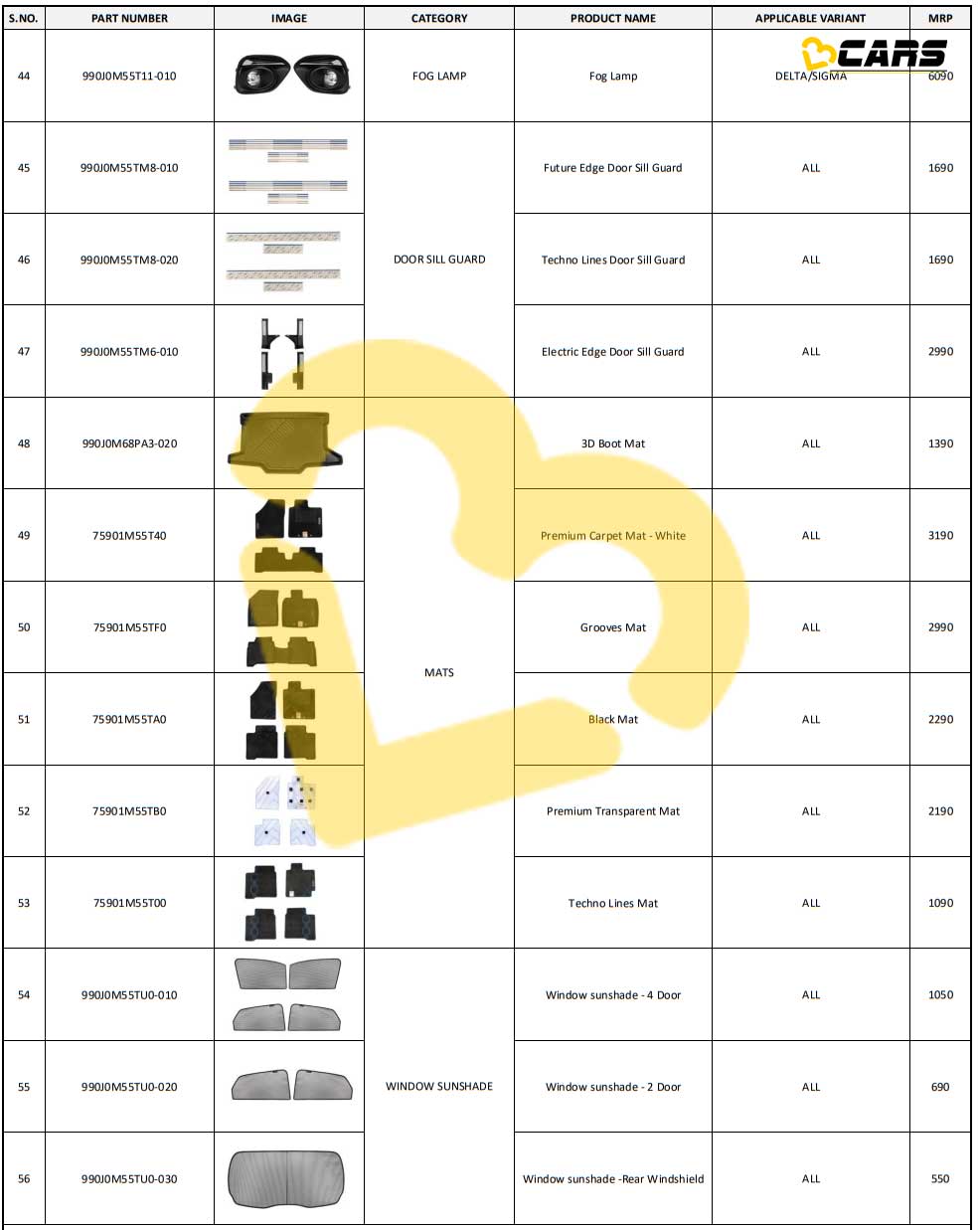 New Maruti Nexa Baleno 2022 Official Accessory Price List - Page 5: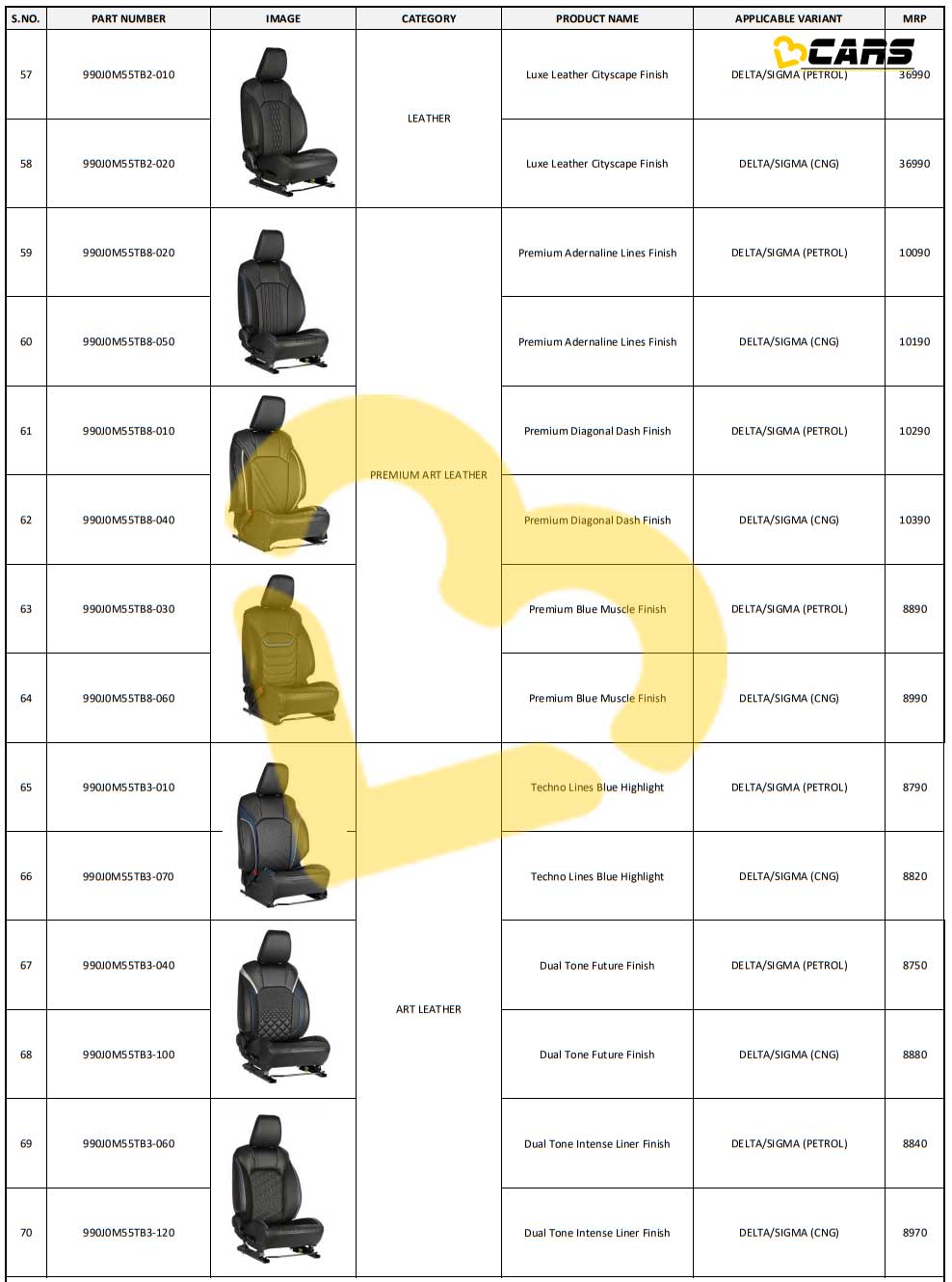 New Maruti Nexa Baleno 2022 Official Accessory Price List - Page 6: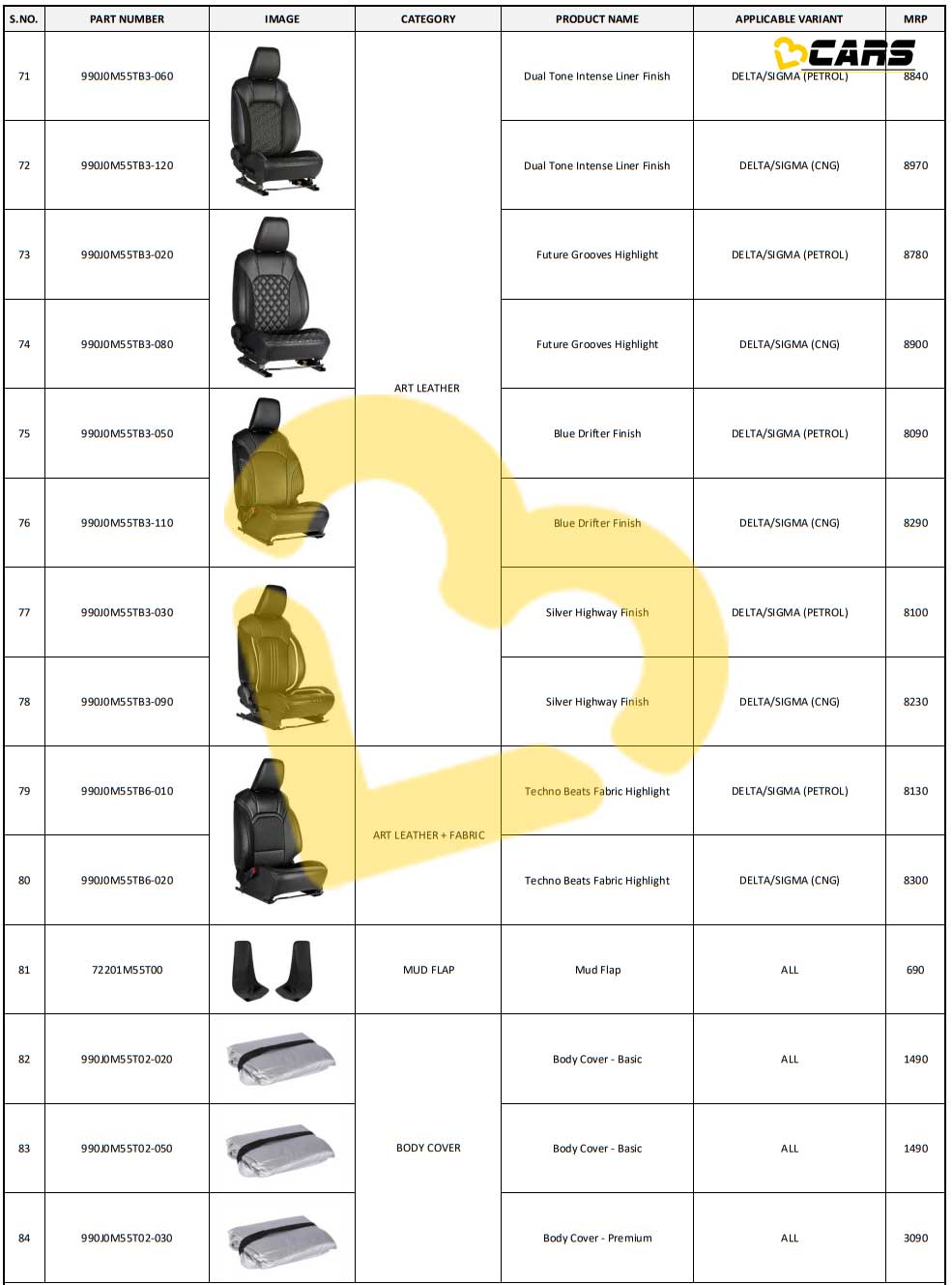 New Maruti Nexa Baleno 2022 Official Accessory Price List - Page 7: